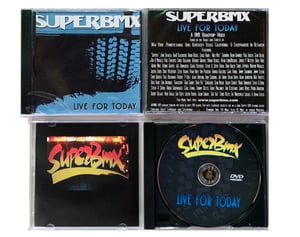 $

5.00 - On Sale
SuperBmx presents...Live For Today
A BMX Roadtrip Video
Filmed in the Trails and Streets of New York, Pennsylvania, Ohio, Kentucky, Texas, California & Everywhere in Between
Featuring....
"Wild Matt" Shannon, RawB Blacharski, "BriGuy" Brian Russel, "Superfly" John Skvarla, Chase Hawk, Brian Kaminski, Paul Eibeler, Sean Dillon, Jason Sunday, Mark Gralla, Rob-O Morales, Paul Cvikevich, Chris Hallman, Derrick Girard, Brian Yeagle, Ryan LongDreads, Bobby Delaat, James P. Nutter, Dave King, Weird Mike, Kenny Garth, Joey "Shitpants" Trimarchi, Craig "ManBoy" Passero, Stevie Q, Keith Terra, Dan Bailey, Chris Zeppieri, Marvin Morales, Nick Fioretti, Justin Zober, Dave Yerziersky, Steve Adams, Ryan Hoey, Tom "The Asshole" Passero, Thomas Baltrus, Tom D'stefano, James Reres, Greg Trunz, "Shredder" Dan Antoniou, "Sweatshop" Dave Gandy", Afro Pat" Schreader, "Medium Sean" Mcabe, Grady Corbitt, Mark Trimarchi, Brien Shoemaker, Carl Fumia, Timmy Shannon, Jimmy Levan, Byron Anderson, Chris Biggers, Paul Buchanan, Patrick "P-Dog", Isaac Hoefling, Tony Cardona, Joe Simon, Dylan Smith, Adam Johnston, Tommy "El Paso" Betts, Dave Maloney, Gay Keith, Justin French, "Shit Kat" Chris Kitley, The Minersville Locals, & Brian Foster
Running Time 48 mins.
plus 19 mins. of Bonus Material
Some facts about this video...
There are only 2 Tailwhips in this video
There are only 3 Barspins in this video
There is no Hip Hop or Rap music in this video
There are Trails in this video
There are well known "Pros" in this video
There are unknown "Non-Pros" in this video
There is no contest footage in this video
There is only 17 seconds of skatepark footage (outdoor, concrete)
There are riders over age 30 in this video
This is an actual video that can be viewed on a real TV
This is not a web video
This Video is 48 minutes long
This Video might be the best video of 1998
Drinking- Yes
Obscene Language- Yes
Immature Behavior- Yes
Bad Karaoke- Yes
Good Times- Yes